Luka Rados, B.A.(H), J.D.
Associate Criminal Defence Lawyer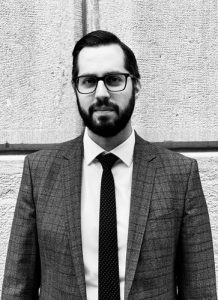 Luka received his BA(H) and JD at Queen's University. There he worked at the Correctional Law Project, a clinic that specialized in representing inmates at Kingston Penitentiary and other federal institutions.
From the beginning, Luka has devoted his career to representing the accused in the criminal justice system. He articled at one of Toronto's finest defence firms before joining David G. Bayliss Professional Corporation as an Associate. He has practised there ever since.
Luka believes in fearless and thoughtful representation. He has successfully defended numerous clients in complex and highly serious matters. He is well versed in challenging wiretaps and search warrants and in conducting both jury trials and judge alone trials alike.
Luka's experience extends to a broad array of unique cases. These include matters relating to murder, terrorism, domestic and sexual assault, robbery, firearms, arson, fraud, harassment, impaired driving, smuggling and human trafficking. Moreover, Luka has participated in large guns and gangs projects involving drug hierarchies and criminal organizations.
​Luka's practice also focuses on highly specialized computer related offences. These often involve novel issues in cybersecurity, encryption, data collection, software development and hacking. Taking a keen interest in trending technology, Luka has successfully defended against computer crime allegations involving unauthorized use of a computer service, mischief in relation to data, trafficking in passwords and other charges.
While Luka primarily takes on cases in Toronto and the Greater Toronto Area, he is passionate about his work and may conduct matters located elsewhere.
You can follow him further at www.radosdefence.com.
647-982-1758  /  [email protected]​