Media: David G. Bayliss, Criminal Defence Lawyer
Media and news coverage for Toronto defence lawyer David G. Bayliss, who has achieved outstanding victories for clients facing all types of criminal charges, as well as for the wrongfully convicted. Bayliss has experience in all areas of criminal law, but most of his practice focuses on defending people facing charges of murder, manslaughter, sexual assault, drug trafficking and drug possession. He also has a strong interest in The Canadian Charter of Rights and Freedoms, police misconduct and quality legal defence for all people.
 Newspaper
'It's finally over': Lambton man acquitted in third trial on wife's homicide
'Utter nonsense' that lenient bail system is a cause of Toronto shootings: lawyer
York Region cops covered up assault of robbery suspect, judge finds
NCAA basketball player 'unknowingly' aided Scarborough murder, lawyer says
Toronto Defence Lawyer David G. Bayliss Calls for Changes to Police Misconduct Disclosure System
Inquiries Up Due to High Profile Celebrity Sexual Assault Cases Reports Toronto Criminal Lawyer David G. Bayliss
Convictions in Kennedy murder case – Raphael Guerra found not guilty
Court case illustrates danger of letting cops write their own misconduct reports
Judge blasts Toronto cop for 'fabricating' reason for search
Search warrants' surge denounced by defence lawyer
Judge calls out lawyers for lowballing trial estimates
It's just 'justice' in 'no deal Peel'
Veteran Ontario cop cleared of sex charges
Toronto criminal lawyer cleared of sexually assaulting, beating woman – Toronto Star Article
Port Perry man found not guilty of murder
Accused in Port Perry killing was extorted, lawyer alleges
CANADA: Only here do we pander to criminals
Judge allows Persaud manslaughter suspect to attend wedding in Egypt
Police search methods come under fire
Police officer accused of 'spiritual reign of terror'
Vast numbers of litigants unrepresented, lawyers unprepared
Slaying seems to sneer at justice
Witness tried to stop fight, murder trial told
Accused man's rights imperilled, experts say
Canada reports: Mullins-Johnson: Appeal court urged to find 'factual innocence
Report casts doubt on murder conviction
A public feeding frenzy created by politicians, police, media
Video
Craig Short acquitted after three trials
Mail Order Murder
Dramatization of David G. Bayliss's 2012 defence in the first degree murder case of R. v. D.N., featuring actual trial participants:  "Mail Order Murder-The Deadly Marriage Scam" Season 1"
Discussion on Toronto Bail Compliance Unit
Bayliss discusses the Toronto Police Services' Bail Compliance Unit on 16×9 Global News.
© Shaw Media Inc., 24 Aug 2012.
CBC Fifth Estate "shaken baby syndrome" documentary "Diagnosis Murder"
Broadcast Date: Friday, January 13, 2012
Watch full episode (Only available in Canada)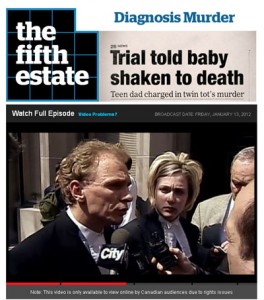 Diagnosis Murder
Exploring the suspect science behind shaken baby accusations.
"Diagnosis Murder" tells the story of several Canadian parents who say they were wrongfully accused–and the leading-edge medical researchers who believe they're telling the truth. The stakes are high: Some have gone to jail. All have had their other children taken away from them.
The Fifth Estate investigates shaken baby syndrome. For decades, the diagnosis virtually guaranteed convictions, shattering the lives of thousands of parents, babysitters and families.
Now new evidence questions whether the syndrome even exists and whether some of those convictions may have been wrongful.
Online
Murder, Manslaughter or Infanticide – Culpable Homicide Under Canadian Law